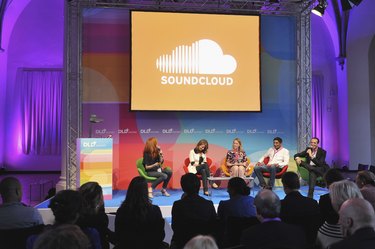 SoundCloud is an online music sharing service where you can upload your own songs to share with a few friends or publicly. It's free to use most features, however SoundCloud does offer Pro and Unlimited plans for a fee. These upgraded plans allow users to bring older music to the top of their SoundCloud profile pages.
Rearrange SoundCloud Music on a Free Plan
On a free plan, SoundCloud will arrange your sounds from newest to oldest and there's no way to get around this. If you're unhappy with the arrangement, you can delete a particular sound by clicking the "Delete" icon underneath it. Then re-upload it, so it appears at the top of your profile again.
Rearrange SoundCloud Music on a Paid Plan
If you don't have a paid plan on SoundCloud, and want to purchase one, click the "Settings" icon on the website, then click "Pro plans" to choose a paid plan to upgrade to. When you're on a paid plan, click your profile photo and then select "Profile," click "Edit Spotlight" and search for the sounds you want to add. Doing this enables you to pin up to five selections to the top of your profile, while the rest are listed in chronological order below them.