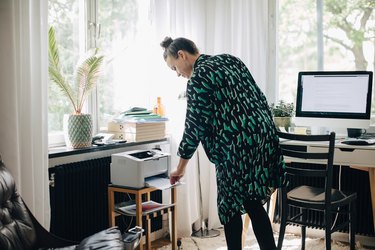 Whether you want to find a previously canceled print job to resume printing it or only want to keep track of your printer activity, both Mac and Windows computers have options to check the printing history. Mac users can see completed print jobs through the standard print queue window. Getting your print history on Windows 10 requires some configuration because the operating system doesn't save any information about finished jobs by default, and the change only applies to future print jobs. You can also use certain websites and printer utilities to track your print history or printer usage.
Checking Printer History on Mac
If you want to check your printer history on a Mac, use your computer's Printers & Scanners tool. This tool appears in your Mac's Dock by default when you add something to your print queue. If the printer isn't currently in use, you can locate the same information through the System Preferences app > Printers & Scanners. Select your printer in the left panel and choose Open Print Queue to bring up the status window.
By default, you see only the current printing queue with the status for each print job plus options to pause, resume or cancel a specific job. However, if you select Window in the printer's menu bar, you find a Show Completed Jobs option that brings up a window showing a list of your past print jobs along with the status, file name, dates the jobs were sent and completed, and the account name.
Select Jobs in the printer's menu bar to refine the results to show the jobs of all the people who use your Mac. You can also select a past print job and use the same menu to delete, resume or open the document in Quick Look.
Checking Printer History on Windows
When you add a document to print, the Windows print queue window displays with your current print jobs, but you won't see these jobs anymore after they complete. You need to update your printing and logging settings so that future print jobs are saved to the history. Windows has different processes to begin saving and viewing the short-term versus long-term print history.
To start saving your short-term printing history, search for Printers & Scanners in the Windows search box and launch it when it appears. Highlight your printer in the list, select Manage, and then find the Printer properties option. The Advanced tab has a Keep printed documents option to select. Then, click OK. Your print queue window now keeps past documents saved in the short term for you to view.
Search for and launch Event Viewer to change your logging settings so you can maintain and view a long-term history. After it opens, double-click the Applications and Services Log option on the left, select the Microsoft folder followed by Windows > PrintService > Operational. There you'll find a Properties option where you can enable logging and adjust the log size. After you confirm the updates, you can come back to the Operational option in Event Viewer to see saved print jobs in the future.
Using Third-Party Tools for Printers

If you want to see your print history on Chrome and use Google Cloud Print, you can access a list of your print jobs on the dashboard on the Google Cloud Print website and remove items as needed. If you subscribe to HP Instant Ink, you can log in to your account and see your pages printed for the current period along with a print history list to help you monitor your plan's usage.
Your printer manufacturer may have installed a utility on your computer that – at a minimum – tracks the number of pages printed over time and the remaining ink. If you open this tool, look for an option to view the printer's usage or status to see this information. You'll want to check your manufacturer's website because the steps can vary. You might also find some basic printer usage information if you select the printer in your operating system's devices list and locate an about option.