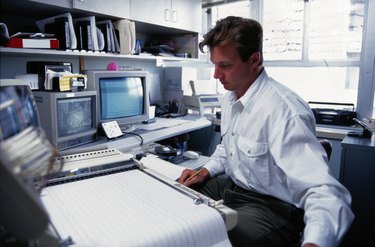 While you can view recently queued print jobs in your printer's queue, it does not provide a complete log of recently printed print jobs. In order to log a history of all print jobs in Windows, you must first enable logging in the PrintService folder of the Event Manager. Your print history is only available in the Event Manager for print jobs received after you've enabled logging. You can open the print queue for a specific printer in Devices and Printers.
Print Service Logging in Event Viewer
Step 1
Press "Windows" to open Windows Start, type "Run" and then press "Enter." Delete any text that appears in the field next to "Open."
Step 2
Type "eventvwr.msc" into the field next to "Open" and then click the "OK" button to open Event Viewer.
Step 3
Select |"Applications and Services Logs"|"Microsoft"|"Windows"|"PrintService"|. The PrintService folder contains administrative and operational controls for print services in Windows.
Step 4
Right-click "Operational" and then select "Enable Log." This command enables logging of all future print jobs and can be viewed anytime by returning to the PrintService folder in the Event Viewer.
Print Job Queue
Step 1
Press "Windows" to open Windows Start, type "devices and printers" and then select "Devices and Printers" from the results. In Windows 8.1, you must select "Settings" and then "Devices and Printers."
Step 2
Right-click the printer for which you want to view print jobs for and then select "See What's Printing." The print queue window opens for your selected printer.
Step 3
Scroll through the list of print jobs to view the jobs that are currently queued. This list contains recently queued print jobs that have not completed yet.
Tip
While you can right-click and select "Cancel" to cancel print jobs in the print queue, depending on your printer, the print jobs may have already been sent to the printer's memory and may not be canceled from the queue.
Many networked printers support print job management through a Web interface. If you know your printer's IP address, you may try entering it into a Web browser. Consult your printer's documentation or IT administrator for more information.