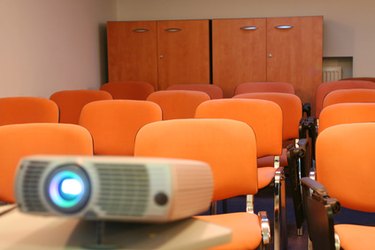 To ensure your projector and its lamp has a long lifespan, it's essential that you clean its filter regularly. Most digital projectors, including those made by NEC, will warn you when the filter needs to be cleaned. Waiting for this warning to appear isn't always wise, however, especially if the projector is used in a dusty environment. You should clean the filter and reset its counter at least every 100 hours.
Cleaning the Filter
Step 1
Turn off your NEC projector an unplug its power cord.
Step 2
Identify the projector's two filter covers, located on the back and rear. Apply a vacuum cleaner hose attachment to each cover to vacuum out the dust and debris.
Step 3
Replace the filters if needed by detaching the filter covers. Push up on the cover's latch until you hear it click. Peel off the filter and clean the filter cover. Attach a new filter to the cover and then press the cover back into the projector. The filter will only slide back into the projector if it is properly aligned.
Step 4
Plug in the projector's power cord and turn on the projector.
Resetting the Filter Usage Time
Step 1
Press the "Menu" button on the NEC projector's remote control.
Step 2
Select "Reset," then "Clear Filter Hours."
Step 3
Select "Yes" to confirm you want to reset the filter usage time. Press "Enter" to complete the process.