Network viruses can cripple a computer network by slowing it down. While it's relatively easy to clean an individual computer or laptop that's infected with a virus because the virus can be quarantined to a single machine, the virus can hide on any computer in an infected network. The problem is even worse when the network has an working Internet connection, because the virus is made or programmed in such a way that it can replicate and transfer itself to all the connected devices.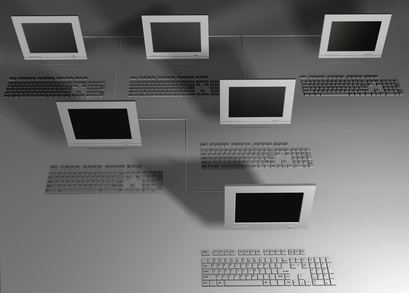 Threat Evaluation
Step
To effectively counteract the threat posed by network viruses, evaluate the severity of the infection using licensed antivirus software. Perform a complete network scan to identify suspicious files and programs. The scan displays results depending upon the level and extent of infection.
Step
The antivirus software and other applications must be kept up to date. Check updates available online from the vendor's site and install them before checking for an infection. As hundreds of malwares and viruses are created every day, the virus database can become obsolete even in few days.
Step
Understanding what the infected file does and how it affects the network system is essential to clean the virus effectively. The system or file could be infected with a virus, a Trojan or a keylogger--the most common types of network threats. Configure the antivirus so it also scans hidden files, the root directory and running programs. Depending on the results, check the vendor's website to know more about the threat the network is exposed to.
Counterstrike
Step
Back up all your system files and the registry using relevant tools. Many infections spread to files vital for running the system, and cleaning or deleting them might render the system unstable. With a Mac or a conventional PC, backing up integral files ensures data isn't lost and the network remains stable. The "system restore" option available in Windows XP, Vista and Windows 7 allows the administrator to set a restore point to which the operating system can revert in emergencies.
Step
Quarantine all suspect files. Options available in antivirus software allow isolation of infected files and prevent all their exchanges from other files or the system registry. By altering or faking registry entries of the operating system, some network viruses can render themselves "invisible" to an antivirus program. A scan of the registry and subsequent isolation can pinpoint these particular problems.
Step
Disinfect or clean all quarantined files. Certain antiviruses also check mailboxes for potentially dangerous emails. Once identified by the antivirus, such emails should be cleaned or deleted manually.