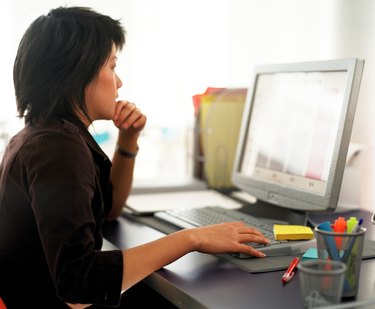 The Duplicate, or New Folder virus is a remote access Trojan (RAT) that allows hackers to connect to your computer. Once this is done they can view your files, upload more viruses and spyware to your computer, send emails, delete information and totally disable your PC. The virus creates duplicate new files with icons resembling Windows folder icons--hence the name. Remove this dangerous Trojan immediately to prevent any further damage.
End System Processes
Step 1
Press the "Ctrl," "Shift" and "Esc" keys at the same time to start Task Manager.
Step 2
Click the "Processes" tab in the Task Manager window.
Step 3
Select "newfolder.exe" on the list. Click "End Process" at the bottom of the window.
Step 4
Repeat Step 3 for "srvidd20.exe," "iddono20.exe" and "editor.exe."
Unregister DLLs
Step 1
Go to the "Start" menu, type "cmd" in the "Search programs and files" box and press "Enter" to open a command line window.
Step 2
Unregister DLLs created by the duplicate folder virus. Type each of the following at the command prompt. Press "Enter" after typing each one:
regsvr32 /u shelliddono.dll regsvr32 /u libedit.dll
Step 3
Type "exit" and press "Enter" to close the command line window.
Find and Delete Files
Step 1
Click the "Start" button and type "srv0104.ids" in the "Search programs and files" box. Press "Enter." Delete all search results.
Step 2
Repeat Step 1 for the following files associated with the virus:
shelliddono.dll libedit.dll newfolder.exe srvidd20.exe iddono20.exe editor.exe