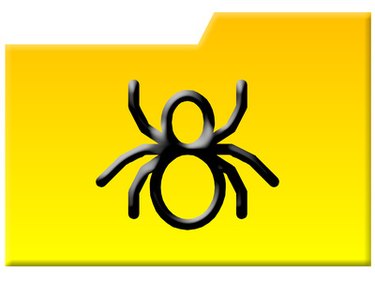 The Captcha virus is a malicious piece of software that affects Windows computers. Clicking an image containing a script that installs the virus is the most common way to contract the Captcha virus. An image of a stripper named "Melissa" has been used to trick users into installing the virus. To delete the Captcha virus or any other virus, you must stop its processes, remove the start-up process and delete its files and registry keys.
Step 1
Boot the computer in Safe Mode. Reboot the computer and press "F5" repeatedly as the computer boots. Select "Safe Mode" and press "Enter.
Step 2
Remove the captcha21.dll file. Click "Start" and "My Computer." Double-click the hard drive icon. Double-click "All Programs." Click "Tools" and "Show Hidden Files." Browse through the folders. There is no way to know where Captcha will be installed. Keep browsing folders until captcha21.dll is found. Right-click the file and select "Delete." Then click "OK."
Step 3
Enter the %temp% directory. This folder is usually found at C:\Documents and Settings\ \local settings\temp.
Step 4
Delete catpcha.bat and all other files that appear untrustworthy. When in doubt, delete all files. There are hidden captcha files that can reinstall the virus. No harm will come to the computer by deleting temp files. Some processes may slow down for a couple of days.
Step 5
Remove the start-up process. Click "Start" and "Run." Type "Msconfig" and press "Enter." Click the "Startup" tab. Remove the check next to "Captcha.dll." Click "Apply" and then click "OK." When prompted to restart, click "Restart later."
Step 6
Run the disc-cleaning utility. Click "Start," "All Programs," "Utilities" and "Disc Cleaner." Check every box and run the utility. It will clear the registry keys and temp folder.