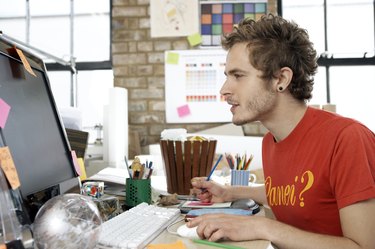 The Adobe Creative Suite gives users the benefit of relatively easy integration between its programs. One of the ways the programs work together is by allowing the vector program, Illustrator, to work with one of the raster programs, Photoshop. Using Illustrator's Live Trace functions, you can convert even the most complicated layered Photoshop files into resizable vector artwork.
Step 1
Open Illustrator and select "File" and "Open" from the application window. Locate the layered PSD file you want to vectorize on your computer, and click "Open."
Step 2
Choose to convert layers to objects or flatten all of the layers into a single image in the "Photoshop Import Options" dialog box that appears. Unless you are sure otherwise, choose the "Flatten Layers to a Single Image" option for most photographs. Click "OK."
Step 3
Select "Object" followed by "Live Trace" and "Tracing Options" from the application menu. This will bring up a dialog box of tracing options for creating paths and fills from the lines of your layered PSD file. Unless you want some of the other tracing effects, select "Photo High Fidelity" from the Preset drop-down and set the Max Colors slider to "256." This will create paths as close to identical as possible to your PSD. Click "Trace" and wait for the progress bar to finish.
Step 4
Click back into the "Object" menu in the application bar and select "Expand." This will convert the trace that was just made into paths, and your image will become a vector file.
Step 5
Select "File" and "Save As" from the application menu, enter a name for your new file and select either ".ai" or ".eps" from the Format drop-down. These formats are the common vector file formats: ".ai" is the proprietary format for Illustrator, and ".eps" is a more universal format which can be edited in other vector programs.