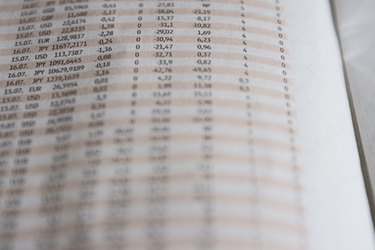 A .Standard Database Format (sdf) file is a database file storing information in fields of fixed length. A Microsoft Excel (xls) is a spreadsheet file, storing data entries in rows and columns. A .sdf file can be converted to an .xls file using the appropriate software application.
Step 1
Use Flyhoward SDF Viewer (comes as a free trial). This program allows you to view, sort and edit .sdf databases before exporting to .xls format. It is compatible with the Windows operating system through Windows 7.
Step 2
Use CONVERT (free version available). This application cannot convert to .xls directly, but can save your .sdf database as a comma separated values (.csv) file. Once you have the data in .csv format, Microsoft Excel can change the extension to .xls using its "Save As" function.
Step 3
Use SdfBrowser (also free). This program allows you to open and view .sdf databases. You can then select the data you wish to convert, and either copy and paste into a new Excel spreadsheet (.xls), or use the program's "Export Selected Data" function to save the data directly as an .xls.