Microsoft's SmartArt graphics enable you to list concise timeline details and apply visual interest to your PowerPoint presentation. Predesigned templates, such as a series of arrows, help illustrate your flowing timeline from start to finish. Apply the SmartArt Tools to format and style your illustration and make your project meaningful to your audience. Before you enter your text, take the time to jot down your events with a pencil and paper to help you organize the content and the order of each milestone.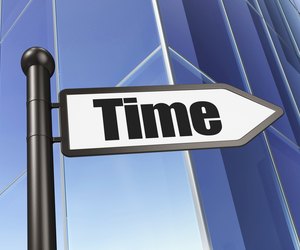 credit: maxkabakov/iStock/Getty Images
Step
Click the "Insert" tab on the ribbon, and then click "SmartArt" in the Illustrations group to open the Choose A SmartArt Graphic box.
Step
Select "Process" in the sidebar to bring up the chart of thumbnails. Examples of Process include Basic Process with a left to right configuration, Vertical Chevron List with rows in one column, and Basic Bending Process with steps displayed in horizontal and vertical blocks. Double-click the preferred thumbnail to copy this template to your slide. The SmartArt Tools ribbon will display the Design and Format tabs.
Step
Click "[Text]" and enter your data. Edit the font by clicking the "Home" tab and selecting the preferred Font in the drop-down menu. To update the style, such as a range of color gradients, click the "Design" tab on the SmartArt Tools ribbon, select "Change Colors" in the SmartArt Styles group and then select the preferred color sample. To update the format, such as to resize the text block, click the "Format" tab on the SmartArt Tools ribbon and then select "Larger" or "Smaller" in the Shapes group.
Step
Click the "File" tab, select "Save" and then select a folder to open the Save As dialog box. Name this presentation, click a file location in the sidebar directory and then click "Save."