If you want to curve whole shapes in Illustrator, there are a few ways. To create simple curves like arches, you can use the options found in the Warp section of the Effects menu. To create customized curves, use the Convert Anchor Point Tool to bend the shape into the curve you want.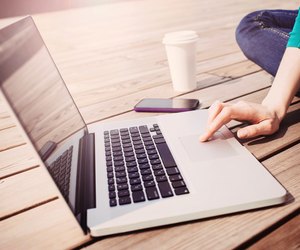 credit: Poike/iStock/Getty Images
Converting Anchor Points
Step
Open a new document in Illustrator. Select the Rectangle Tool from the Toolbox. Drag the tool across the Illustrator document to create a rectangle of any size. Note that four anchor points are along the outline of the rectangle.
Step
Click the bottom right corner of the Pen Tool in the Toolbox and select "Convert Anchor Point Tool."
Step
Click the top left corner of the rectangle and drag the tool down toward the bottom left corner. The top of the rectangle curves toward the bottom.
Step
Click the bottom right corner and drag the tool up to the top left corner. The bottom of the rectangle curves inward toward the top.
Step
Add additional anchor points to the shape by selecting the "Add Anchor Point Tool" from the Toolbox and click on the outline of the object. Use the Convert Anchor Point Tool on the new anchor point to create complex curves on the object.
Using Warp
Step
Draw a rectangle on a new Illustrator document.
Step
Click the "Edit" menu, select "Transform," then "Warp." Click "Arch" from the Warp options menu.
Step
Click the "View" menu and select "Extras" to show the warp mesh and control points.
Step
Click on a control point at the top of the shape and drag it up to arch the shape upward. Drag it down to create a downward arch.
Step
Press "Ctrl-Z" to undo the Arch effect. Click additional Warp styles in the Warp options menu to experiment with other curving effects such as Bulge, Flag, Wave. You can also create a customized warp effect by clicking "Customize" in the Warp options menu.