Simple Network Management Protocol (SNMP) is a component of the Internet Protocol Suite used to monitor network-attached devices. SNMP is a tool often used by network administrators to monitor network performance. With SMNP, you can monitor the performance of the equipment on your network and also configure alerts to be sent to your management station.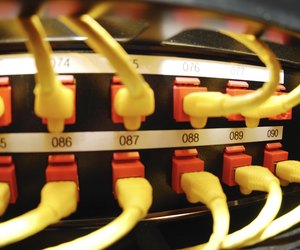 Step
Open up the "Cisco IOS" and enter the configuration mode. You can enter the configuration mode by typing "configure terminal."
Step
Enable your router's SNMP. Type in the following string to create a community string: "snmp-server community community_string ro" You can always replace "ro," which stands for "read only," with "rw," which stands for "read write."
Step
Configure your Linksys router. Enter the following string: "snmp-server host X.X.X.X community_string" Replace "X.X.X.X" with the actual IP address of the SNMP management station.
Step
Enter the following command to enable SNMP alerts: "Router(config)# snmp-server enable traps" This allows your Linksys router to "SNMP" alerts to your IP address.
Step
Type "exit" to close out the "configuration mode" and then type "write memory" to save your new SNMP configuration.