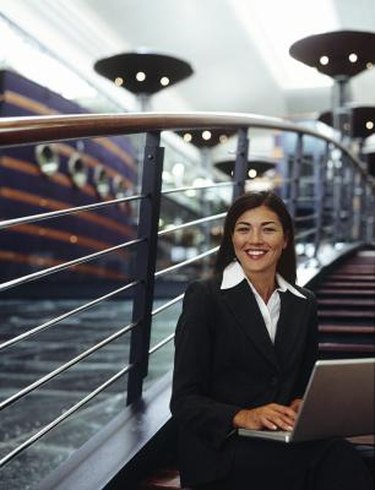 When you receive a PDF form by email, you can type your data right on the form if the PDF is enabled for editing. In this case, Adobe Reader displays the PDF in a window with menu and toolbar options to help you add text and save your completed form for printing or emailing as an attachment (see Resources.) Adobe Reader also features a digital yellow marker to highlight your text and draw your reviewer's attention.
Step 1
Install the free Adobe Reader if it is not already on your computer (link in Resources).
Step 2
Open the PDF with Adobe Reader. If the content is difficult to see, click the percentage drop-down button on the toolbar and select a different percentage value for viewing.
Step 3
Click the large "Sign" button on the toolbar near the upper-right corner of the window. Another alternative is to click the "Sign, add text or send a document for signature" button (an icon with a pen signing a white document) on the toolbar.
Step 4
Click "Add Text" in the Sign pane to open the Add Text dialog box. Click in the PDF where you want to insert your data and then click to select the font from the drop-down list, such as "Helvetica." Other options include font size and line spacing. If the Sign options are not accessible (you may see a security warning that you cannot add text or place a signature on the form), you may be able to type directly on the form.
Step 5
Enter your data. Continue clicking the form fields and entering your text.
Step 6
Click the "File" menu, mouse over "Save As" and then click "PDF" to open the dialog box. Click a file location for the Save In field, such as your desktop. Type the filename in the field. Click "Save." Your completed form is ready to print or email.
Tips & Warnings
To highlight text to draw your reader's attention, click and drag any text to select and then click the "Highlight text" button (an icon with pen and yellow document) on the toolbar. Remember to save the document.
If a purple band displays with a warning that your data cannot be saved, or if the "Tools" button is missing, or if nothing happens when you try to type, then this form cannot be filled out electronically. The alternative is to print, and then fill the form manually.
Information in this article applies to Adobe Reader X. It may vary slightly or significantly with other versions or products.