Temporary folders hold temporary files on a computer's hard drive. These can be created when a program uses more memory than is allowed in the virtual memory and are also created when surfing the Internet. Temp files are hidden by default in Windows, so if you want to find these folders you first need to make hidden files and folders visible. You can then navigate to the proper folder to find your temp folders.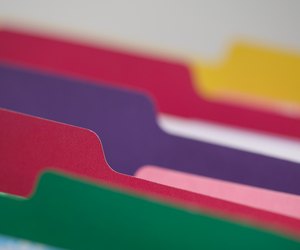 credit: Jupiterimages/liquidlibrary/Getty Images
Showing Hidden Folders
Step
Click "Start" and then click "Computer."
Step
Click the "Organize" drop-down menu at the top left of the screen and then click "Folder and Search Options." The "Folder Options" window appears.
Step
Click the "View" tab and then click "Show Hidden Drives, Files and Folders" option under "Hidden Files and Folders" in the Advanced Settings pane. Click "OK."
Finding Your Temp Folders
Step
Right-click the "Start" button and choose "Open Windows Explorer."
Step
Click "Computer" in the left pane of the window and then double-click your main drive (usually "Local Disk C:").
Step
Double-click the "Users" folder and then double-click the folder named after your username.
Step
Double-click the "AppData" folder and then double-click the "Local" folder.
Step
Double-click the "Temp" folder to find all of your temp folders.