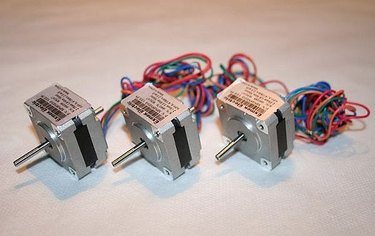 It is very easy to find cheap stepper motors for your project. Stepper motors can be very useful in many types of projects such as robotics, animatronics, homebuilt CNC machines, and automated mechanical projects, among others. Good quality stepper motors can be found for cheap by salvaging computer components or by finding good electronics surplus companies. This article will help point you in the direction of some cheap stepper motors.
Step 1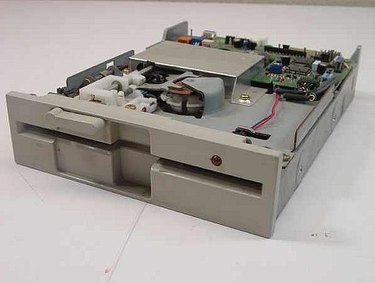 Salvage some stepper motors from old floppy disc drives. The stepper motors in the floppy drives were used to control the read/write position of the head. Each type of drive will have a different number of steps to complete a full revolution, typically between 100 and 400 steps. The angle of each step will be between 3.6 degrees, and 0.9 degrees, respectively.
The older 5 1/4" drives from IBM's, Amiga's, Atari's, etc will be easier to work with, but are more scarce. The newer 3.5" drives also contain stepper motors and have the advantage of operating under 5v.
Step 2
Salvage stepper motors from old printers. Many old printers contain stepper motors. Some of the best stepper motors you can salvage are from older HP printers, particularly the Laserjet III printers. These contain some fairly powerful stepper motors and best of all they are very cheap or free.
Step 3
Find stepper motors in old hard drives. You will need to find old hard drives that are typically smaller than 40 MB. The motor that makes the drive platters spin is not a stepper motor it is a 3 phase spindle motor. The stepper motor is located on the actuator arm which moves the heads around the platters. You should be able to find old hard drives for cheap or free in order to pick up a few extra stepper motors.
Step 4
Find old CD or DVD burners. CD and DVD burners typically contain stepper motors. They are used to control the position of the optical sensor. The stepper motor is needed to control the precise position of this sensor needed to burn media. Some older CD drives may also contain stepper motors. Newer CD and DVD drives that are designed to just read media will only have DC motors.
Step 5
Find stepper motors on ebay or from electronics surplus stores such as electronic goldmine, alltronics, and H&R surplus. There are many more electronics surplus stores online, search for "electronics surplus" on your favorite search engine. These companies have done the work for you. They have found old stepper motors and removed them. They will typically also list the specifications for the stepper motor. This is a great way to find cheap stepper motors.