Numerous social networks and similar websites or services allow users to see if their friends are online. Facebook, Google Plus, Skype and Xbox Live, to name a few, all have designated friends lists that indicate the status of each individual friend -- specifically whether each online or not.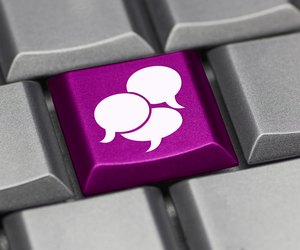 credit: Jürgen François/iStock/Getty Images
Facebook
Step
Look over to the sidebar on the right side of Facebook. If a sidebar isn't present, click "Chat" in the bottom right corner. If you're using the mobile app, tap the Friend List icon on the top right.
Step
Notice if there is a green dot next to a friend listed. If so, that friend is currently online and on Facebook. If an icon that looks like a mobile phone appears next to the friend, he is not directly on Facebook but is accessible via mobile phone.
Step
Use the search bar (at the bottom on the desktop and at the top on the mobile apps) to type a person's name if you're looking to see if someone specific is online. If neither a green dot nor mobile phone icon appears next to a Facebook friend's name, that person is not online.
Google Plus
Step
Locate the Hangouts sidebar on the right on the home screen of Google Plus. This is the easiest way to view a list of friends.
Step
Click in the search field and start typing the name of the friend you're curious about.
Step
Check the profile icon to the left of the name you're looking for when it appears. If a green dot is present toward the bottom right of the image, that person is online. If a green dot doesn't appear on the person's profile image, that person is not online.
Skype
Step
Open your list of friends on Skype either on your computer or by opening the Skype mobile app.
Step
Check under each individual name to see that person's online status. If a green bubble with a check mark appears underneath a specific name, that person is online and available for chatting on Skype.
Step
Look for other symbols that could still mean a person is online. If a yellow bubble with clock hands appears underneath a name, that person is logged in, but away at the moment. If a red dash appears on the online symbol, that person is online but doesn't want anyone disturbing her. If a gray bubble with an X mark appears underneath a specific name, that person is not online.
Xbox Live
Step
Go to xbox.com and log in with your Microsoft account.
Step
Hover over your Xbox Live username on the top right and click "Friends" in the menu.
Step
Scroll down to the Online section of the Friends page. There, all friends that are currently online are displayed.