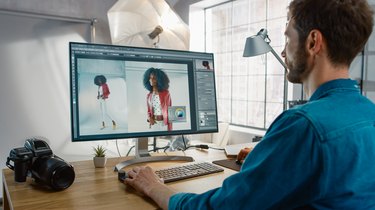 Adobe Photoshop organizes many of its focal commands and processes in a series of panels that present task-specific settings or operational selections. Although you can use keyboard shortcuts to switch among most of the program's tools, you also can click on their icons in the Tools panel to active them. If your Photoshop tools disappeared suddenly from your workspace, you can bring it back on screen through a variety of methods, including customized shortcuts as well as Photoshop's default behaviors.
Photoshop Toolbar and Keyboard Shortcuts
By default, Adobe Photoshop assigns keyboard shortcuts to many of its panels. Press "F5" to reveal the Brushes panel, "F6" for the Color panel, "F7" for Layers, "F8" for Info and "Alt-F9" for Actions. Some panels that lack function key shortcuts can dock with other panels that provide them. For example, Photoshop automatically docks the Swatches and Styles panels, which don't include default keyboard shortcuts, with the Color panel.
The Tools panel lacks both a function-key shortcut and the ability to dock with other panels, however. If you click on the double-headed arrow at the top of Tools, it rearranges itself from a long single-column strip into a double-column Photoshop toolbar arrangement. In versions of Photoshop through Creative Suite 2, this two-column setup served as the permanent toolbox arrangement.
You can access the Window menu to view or hide any of Adobe Photoshop's panels, or right-click the title bar at the top of each individual panel and click "Close" to make it disappear. If you find the Photoshop CC menu bar missing, simply click "Window" and then "Tools" to reveal the Tools panel.
Photoshop provides built-in methods of hiding and showing all, or almost all, open panels simultaneously. If your Tools panel disappears because you've hidden all your open panels, press "Tab" to bring it and its companions back into view. This keyboard shortcut works like a toggle, hiding all open panels or revealing them again. The "Shift-Tab" combination toggles everything except Tools and the Application bar.
Change of Keyboard Commands
Adobe Photoshop includes the ability to assign and change keyboard shortcuts to various aspects of its user interface. Because the commands that hide and reveal the program's panels fall under the category of menu shortcuts, their keyboard shortcuts must incorporate a function key, the Ctrl key or both.
To assign a shortcut to the Tools panel, open the "Edit" menu and choose "Keyboard Shortcuts." In the Application Menus section of the "Keyboard Shortcuts and Menus" dialog box, expand the "Window" section and scroll down until you find the Tools entry. When you select it, a shortcut field appears. Click in the field and press the keystroke combination you want to assign to the Tools panel.
If the shortcut you select conflicts with an existing assignment, Photoshop displays an alert that identifies what the keystroke currently invokes. You can override these defaults.
Using Photoshop's Workspaces
To speed up a busy workflow, set up Photoshop with your most used panels ready for action, and save the combination of panel visibility and location as a custom workspace. Workspaces can also include customized keyboard shortcut assignments and menu layouts that present only those commands you need for a specific set of tasks. Because you can save multiple workspaces, you can switch from one task-specific setup to another with a single command.
Once you have your workspace arranged the way you want, open the "Window" menu and click "Workspace" followed by "New Workspace" to establish a new workspace. Once you've named and saved it, you can switch to the new workspace from the Application bar or the Workspace submenu.
Photoshop Version Information
Information in this article applies to Adobe Photoshop CC and Adobe Photoshop CS6. It may differ slightly or significantly with other versions or products.