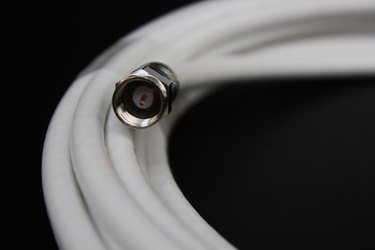 A few options are available for hiding or disguising the appearance of coaxial cable, which is typically used for Internet and TV access. Having cables strewn across your living room or office is not only unsightly, but also dangerous, and so it is important that these cables be managed properly. Depending on the color of cable and style of the room, there are some various tricks to minimize the appearance and danger of coaxial cables.
Hiding it in Carpet
Step 1
Run the length of your cable along the walls, from where it connects to the outlet to your computer or TV. Lay the cable so that it is as close to the wall as possible, and with as little slack as possible.
Step 2
Press the cable down into the carpet, and underneath the baseboards of your wall. If your carpet is plush enough, the cable will slip under the baseboards surprisingly easily.
Step 3
Secure the cable using cable hooks. These hooks have tiny nails that will snag in the carpet, keeping the hook and cable in place. While not invisible, they will be much more aesthetically pleasing than the cable was.
Cable Channels
Step 1
Install cable channels, either along the top of your baseboard or along the ceiling. Ceiling-mounted ones will look like crown molding, while baseboard-mounted channels will just look like part of the baseboard itself.
Step 2
Feed your cable into the channel, and press it in firmly if necessary.
Step 3
Run the cable along as much of the channel as required, then feed it out into your hardware.