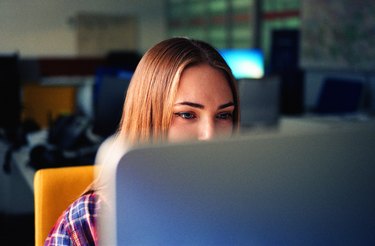 The VLC Media Player typically is used as a desktop application, but it includes a plug-in that can play videos embedded on Web pages. VLC's plug-in supports Internet Explorer, Mozilla Firefox, Google Chrome and other Web browsers. Embedded videos on websites that would normally play in Windows Media Player, QuickTime or other similar plug-ins will play in an embedded VLC player after you install the plug-in. This add-on is not installed by default; you have to select it as a custom option when you install VLC. If you've already installed VLC, you will have to uninstall and then reinstall it and select the plug-in option in the setup wizard.
Step 1
Open a Web browser and navigate to the VLC Media Player for Windows download page at Videolan.org/VLC.
Step 2
Click the "Installer Package" button on the Web page and click "Save" in your browser to save the installer file to your computer.
Step 3
Double-click the downloaded file on your desktop and click "Run" to launch the installer. Click "Yes" if a User Account Control prompt window appears.
Step 4
Click "Yes" if you are asked to remove the currently installed VLC Media Player from your system. Click "Next," "Uninstall" and then click "Finish."
Step 5
Click the "Next" button twice when the VLC installer window opens.
Step 6
Click the check boxes to the left of "Mozilla Plugin" and "ActiveX Plugin" on the "Choose Components" screen of the installer. Click "Next."
Step 7
Click the "Install" button and click "Finish" once VLC finishes installing.
Step 8
Close all open Internet Explorer, Mozilla Firefox, Google Chrome and other browser windows. Re-open your Web browser and the VLC plug-in will be ready for use.