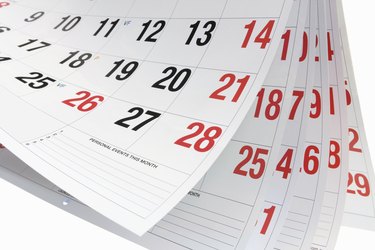 Keep your dates organized with a Microsoft calendar template for PowerPoint presentations. Access the templates through an open presentation, or a link to the online templates. Formats include a calendar year with a January to December range, or an academic year with an August to July range. Examples of time-saving layouts feature seasonal illustrations or blank placeholders to insert your image files. Style your calendar with the Drawing Tools ribbon and highlight selected dates to grab attention for on-screen displays and printouts.
Step 1
Open a blank PowerPoint presentation, click the "File" tab, click "New" and then type "calendar" in the "Search for Online Templates and Themes" field. Press "Enter" to bring up the calendar thumbnail search. Examples include "2014-2015 Academic Calendar (Aug-Jul)," "2014 Illustrated Seasonal Calendar (Sun-Sat)" and "2014 Photo Calendar (Mon-Sun)" (links in Resources).
Step 2
Click the preferred thumbnail to preview the template and the description. Click "Create" or "Download" to copy this template to a new PowerPoint presentation.
Step 3
Click inside the date or "Click to add text" box to bring up the Drawing Tools ribbon and the Format tab. Enter the text to label birthdays, meetings and appointments, for example. To change the font style, select the text, click the "Home" tab and select the preferred option, such as "Italic," to update.
Step 4
Style the calendar with options on the Drawing Tools ribbon to emphasize selected dates. For example, click a text box to bring up the Drawing Tools ribbon and then click the "Format" tab. Click the "More" button in the Shapes gallery in the Drawing group to open the chart with sections including Block Arrows, Flowchart and Action Buttons. Select the preferred shape to insert. For example, select a star shape and then click and drag on the calendar to size the star and highlight a birthday.
Step 5
Press "Ctrl-S" to save this presentation. If you want to save this presentation as a template, select "PowerPoint Template (*.potx)" in the Save As Type list on the Save As box and then click "Save."