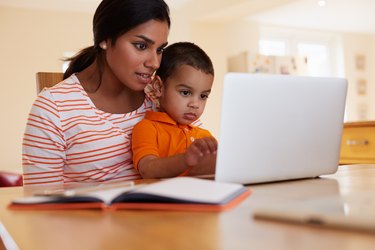 Microsoft Word is designed to create text documents with minimal graphics content. It does, however, come with the ability to customize the way content is structured, making it a good option for building family tree charts. Space on the page is the greatest challenge for family tree charts if you intend to print the document. Large family charts sprawl quickly and present challenges for standard paper sizes. Breaking your chart into multiple documents is required to print in some cases. Using a digital file opens up space to experiment and build out a large tree.
Family Tree Templates for Word
One way to shortcut the entire process is by finding a family tree template for Word. A quick web search yields numerous pre-made templates with everything ranging from simple charts to tree structures positioned over custom background designs. Many of the templates are free, and you can save one to your computer. Some of the custom designs may require a fee to purchase and use the template. The pre-formatted templates are handy and attractive; you just add the relevant names to create your chart. Microsoft Word also has a template in its database of free template files.
Build Your Own
You can opt to draw a family tree with Microsoft Word charts. To create a chart, select "Insert" from the top-level menu and choose "Hierarchy" from the list of options to see a number of styling options for your family tree. Choose one to begin building your tree. A simple, minimalist design is the easiest to manipulate, but the larger block designs have space for photos and additional text for each individual. Add the name for each family member on the chart. To add additional blocks or sections on a row, click on the name where you want to add an adjacent entry and click "Add Shape" to generate a new space for an individual.
Other Tree-Building Options
While Microsoft Word is capable of building a family tree, it has limited capabilities. Family tree and genealogy-specific programs are available to build your tree and search for distant family members using advanced databases, immigrant records and death records. If you want to work backward in your family tree as far as possible, consider using a program designed to trace your roots to the furthest degree. If you want a simple tree using all the known family members, Microsoft Word is a viable option with some attractive design options.