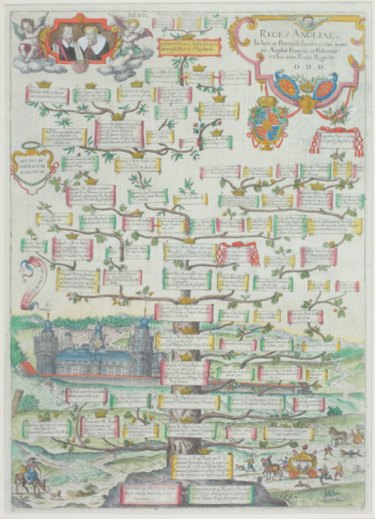 Genograms give you a visual record of your family tree. You can draw them yourself or you can use software that provides templates for you on the Apple Macintosh computer. However, these programs often cost money and you may be able to create your own if you already own certain types of software. For example, you can design a genogram in Adobe Photoshop, QuarkXPress, SwiftPublisher and many other design programs. For a very basic genogram, you can use a word-processing application such as Apple's Pages or Microsoft Word, but these will not give you the flexibility of design programs. Since Photoshop seems to be ubiquitous, here is how to make a genogram in that application.
Step 1
Gather your family tree information and organize it before you start your design. You will find it easier to make your genogram if you already have thought out and organized your information. If you have family photos of some of the people in your family tree, gather those as well.
Step 2
Scan any family photos you want to use in the genogram into your computer using your flatbed scanner. Set your scanning parameters to at least 300 dots/pixels per inch for good quality. This applies even if your images are all black and white. Keep all your scanned images at the same resolution. Sort out and name your scanned images. Create a folder on your Mac for your general genogram project, then create a new folder within it for photos.
Step 3
Start a new document in Photoshop by going to the "File" menu and clicking "New." Set the "Resolution" to 300 ppi. Set width and height according to the requirements of the genogram. Keep in mind that while you can create any size genogram you wish, you will be limited in printing it by your printer's parameters. You can, however, take the final genogram file to a professional printer for output on larger, better paper.
Step 4
Use the rectangle tool from the side toolbar -- or any other box shape you like -- to draw boxes in the open document. Each new one creates a new layer, so when you do the first one, go to the "Window" menu and click "Styles." Select a style from the "Styles" palette for your shape that you like and that you will be able to type over and still see the text. Then go to the "Layer" menu and select "Duplicate Layer." This will produce a new copy of the shape you can move around. You can use different "Styles" for different generations, or however you want to distinguish people in your genogram.
Step 5
Type the name of your first ancestor by clicking the Type tool in the side toolbar. Click the "Move" tool on the side toolbar and move the text inside one of your shape boxes. Use the "Duplicate Layer" selection to use the same formatted text in each box. Move them around with your Move tool.
Step 6
Click and hold on the Rectangle tool in the side toolbar to get the Line tool. Use this to connect the boxes for marriages, children and ancestors. When you finish your genogram, go to the "Layer" menu and select "Flatten Image" before you print.