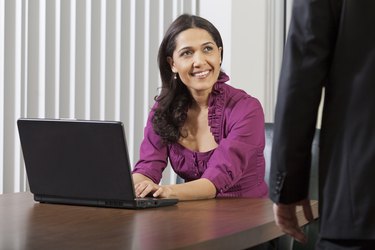 Working in Microsoft Excel 2013 without gridlines can make sense for some projects. However, if someone sent you a file and you need gridlines to make sense of everything, you can re-enable gridlines through the Ribbon toolbar. Alternatively, if the file you look at on your computer has gridlines and the printed file doesn't, you'll need to re-enable the ability to print the file with gridlines through the Page Layout menu on the Ribbon toolbar.
Show Gridlines
Step 1
Click to select the workbook you want to display gridlines within in the lower left corner of the screen. Alternatively, if you want to activate gridlines in multiple workbooks, hold down the "Shift" button and select the workbooks in which you want to display gridlines.
Step 2
Select the "View" tab on the Ribbon toolbar.
Step 3
Click to place a check mark next to Gridlines in the radio box in the Show section. Gridlines will be activated in the selected workbooks.
Print With Gridlines
Step 1
Select the workbooks you want to make sure get printed with the gridlines displayed.
Step 2
Select "Page Layout" on the Ribbon toolbar.
Step 3
Click to place a check mark next to "Print" in the radio box in the Sheet Options section. Gridlines will now appear on documents printed from these workbooks.
Tip
Click "File" and then "Options." Within the Form Group Settings section on the right side of the window, you can change the height and width of the cells in your spreadsheet.
You can set items up that are near the grid to snap to the grid so they'll automatically align with it by clicking the nearby item and then clicking "Format," "Align" and then "Snap to Grid."
You can change the color of your gridlines by clicking "File," "Options" and then clicking the "Advanced" tab. From there, select the Gridline Color drop-down to open a color palette and then select the color you want your gridlines to be.
You can print everything on a single sheet on one page by clicking the "Scaling" drop-down arrow on the Print page and then selecting "Fit Sheet on One Page."
Warning
Information in this article applies to Microsoft Excel 2013. Procedures may vary with other versions or products.