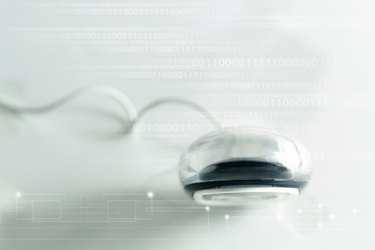 You can turn your Excel spreadsheet data into a form when you need to perform repetitive data entry. The form makes this process easier and Excel has a button interface to assist with the data entry. The form button is not on the ribbon by default. It must be added to the Quick Access Toolbar. Once it is added, any spreadsheet that contains column headers and data can be transformed into a form. Use the Excel form for quick data entry in your spreadsheets.
Step 1
Open Excel 2010 and select a workbook containing data. Click the "File" tab and select "Open." Browse the files and locate the workbook. Click the workbook and select the "Open" button. The workbook will open.
Step 2
Add the form to the Quick Access Toolbar by clicking the right drop-down arrow on the Quick Access Toolbar. Select "More Commands." Click "All Commands" in the "Choose Commands From" section. Drag the scroll bar down and click "Form." Click the "Add" button to add the button to the Quick Access Toolbar. Click "OK."
Step 3
Highlight the data in your spreadsheet. Make sure you highlight the column headers too. Click the "Form" button. A form will appear containing your data.