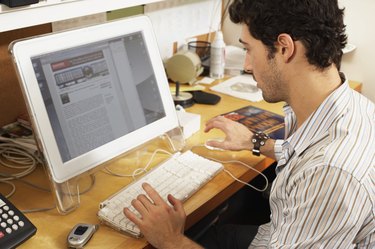 AVI files are a common format for files that combine audio and video files. These are files that have been compressed and decompressed when they are put together. As a result, they can only be played in a video player software that contains the proper code to read the file. There are a few options for playing an AVI file on a Mac--determine which will work best for you.
Media Player and VLC Player
Step 1
Save the AVI file to your computer. Be sure to remember the location of the file.
Step 2
Open your computer's media player, such as Windows Media Player. Go to "Open" then "Browse." Select the AVI file and press "OK." If the file does not automatically begin to play, proceed to the next step.
Step 3
Download a free VLC player from the VideoLAN Client Web site. While following the prompts, be sure to choose "Save" rather than "Run." At the end of the prompts, click "Finish" to complete the downloading process. Close the program.
Step 4
Restart the VLC player. Click on "Open" in the menu tab. Chose "Browse." Locate the AVI file and double-click to select. Press "Finish" to begin playing the file. If the file does not open, you will want to try another software option.
QuickTime
Step 1
QuickTime includes only a small number of codes to read AVI files. As a result, you will need to install a free plug-in that enables QuickTime to play almost every file format: Perian.
Step 2
Download Perian by visiting Perian's website and following the prompts. Save the file to your desktop. Drag the Perian file into the QuickTime folder located in your User Library. Close QuickTime and your browser.
Step 3
Reopen QuickTime and attempt to open the AVI file by clicking on "Open" in the menu tab. Choose "Browse" next and then double-click the AVI file. Click "OK" to begin playing the file.
Convert AVI files to QuickTime
Step 1
Perform a search to locate a freeware tool that will convert an AVI file into the MOV format, which is playable on QuickTime. One program that requires no software installation can be found at www.media-convert.com/. This is the example converter we will be providing instructions for.
Step 2
Open the file by choosing "Browse" and locating the AVI file you wish to convert. Double-click to select it. Then click "OK" to finish browsing. Choose the Input Format "avi" on the drop-down menu on the right hand side of the screen.
Step 3
Choose "Mac" for the output format on the button left hand side of the screen. Finally, select the format ".mov," which is the Apple Quicktime format. Click "OK."
Step 4
Close your Internet browser and QuickTime, if it is open. Locate the AVI file and click to play. It will open automatically in QuickTime.