Excel 2013's AutoRecover feature, which is enabled by default, creates regular backups of workbooks to guard against losing data if the program crashes. In addition, the program saves a copy of every file after you close it, even if you choose not to save, which gives you a second chance to retrieve your work. The method for recovery varies depending on whether you're restoring from a crash, restoring a completely lost file or restoring a lost revision to an existing file.
Recover After a Crash
Step 1
Reopen Excel after a crash, and the program will check for AutoRecover saves. Select a file from the Document Recovery panel to open it. You can also open the drop-down menu next to a file and choose "Save As" to save the file directly. If Excel finds only one file to recover, it automatically restores the file rather than showing the Document Recovery panel, but you can display the panel by clicking "Recovered." Often, this is the only step necessary to recover a lost file.
Step 2
Look up and copy the AutoRecover file location if Excel doesn't automatically prompt for recovery. To find it, open the "File" menu, click "Options" and look on the "Save" tab. Select the location and press "Ctrl-C" to copy it.
Step 3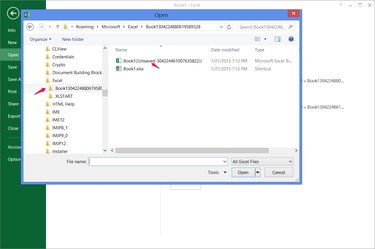 Click "File," "Open," "Computer" and then "Browse." Paste in the AutoRecover location using "Ctrl-V" and press "Enter" to view its contents. In the folder, you'll see subfolders for each recovered file. Each subfolder name begins with the lost file's title to help you find the correct one. Open the correct folder and then open the file containing the word "Unsaved."
Step 4
Press "Restore" on the yellow bar and then click "OK" on the warning to overwrite your outdated file with the recovered copy.
Recover an Unsaved File
Step 1
Select "Open" in the File menu and choose "Recent Workbooks." Press "Recover Unsaved Workbooks" to see a list of recent files that you didn't save. If you have a long Recent Workbooks list, you might need to scroll down to find the "Recover Unsaved Workbooks" button.
Step 2
Open your lost workbook from the list of unsaved files. Note that the UnsavedFiles folder, which the "Recover Unsaved Workbooks" button opens, is not the same as the AutoRecover location used during a crash.
Step 3
Press "Save As" on the yellow bar to create a permanent copy of the recovered workbook.
Recover an Unsaved Revision
Step 1
Open the file that you forgot to save after modifying and click on the "Info" tab of the File menu.
Step 2
Click the most recent revision in the Versions section to recover your lost work. Unsaved versions include the line "When I closed without saving."
Step 3
Press "Restore" and click "OK" to overwrite the saved file with the newer, unsaved revision.