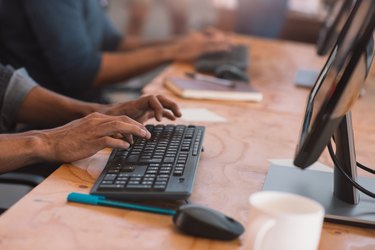 Read only comes in handy when you're sending a document to someone else for review. The person can see the information but can't make any changes to the document itself. But if you're the originator of the document, you can remove the read-only block by tweaking the Review settings or simply copying and pasting the text to a new document.
Remove Read Only in Word
If you want to change a read-only file, you may find you need a password to unlock editing capabilities. The original owner of the document probably doesn't want the content of the document changed. But you might need to edit the file in order to truly communicate the additions or changes you want.
The first step is to determine whether someone has restricted editing in Word with a password or not. In some cases, read-only mode is enabled when a document is downloaded, and you're prompted with a button inviting you to Enable Editing when you open it. If not, you may need to request the password from the originator of the document, but there are some workarounds.
How to Remove Editing Restrictions
For the document creator to remove read only in Word, you'll simply need to go back through the steps you took to protect the document. Go to Review, Restrict Editing and enable protection. If you have Office 365, you'll see the option to Always Open Read-Only or Protect Document that will allow you to make the changes.
If you're the recipient, though, and you need to change a read-only file, look for a yellow strip that reads Protected View at the top of your screen. When that appears, you should be able to click on the button that reads Enable Editing and disable read-only view. If that doesn't happen, click in Review and Restrict Editing on your Word ribbon to see if you can select Stop Protection without needing a password
Remove Read Only Without Password
If you want to remove read-only Word protection, but you don't have the password, you can try changing the file's properties. To do this, find the document in your Finder or Windows Explorer and right-click on it. Select Properties, then look for a Read-Only box next to Attributes. If that box is checked, uncheck it.
Another option if you want to change a read-only file is to simply ask the document owner to give you editing rights. This is likely the best option since the original owner may have a reason for locking down the file. The owner can let you know whether editing the document is allowed and send you an unlocked version.
Create a New Document to Edit
When you can't get into the document any other way, copy and paste is another great option. It's important to note that this won't replace the original document. The person who sent it, as well as all other recipients, will likely still be going by the original version. But it can help you to make your edits and send them over as a suggested replacement for the original.
To copy and paste from the read-only document, either highlight the text you want to copy or select Edit and Select All to copy the entire text. When you paste into a new Word document, it will pull in as unformatted text, so you'll have to format your text. Once you're ready, you can then use the features that restrict editing in Word to lock your new document so that it's read only.