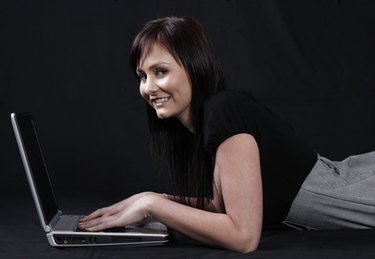 When you change your computer's wallpaper and log off, the next time you log on you will see the same wallpaper. How does Windows know how to do that? The system registry contains information about every item on a computer. This includes icons, program folders and the name of the currently selected wallpaper image. Computer users normally change their wallpaper by using the Control Panel. However, you have the option to remove wallpaper by making changes to the system registry.
Step 1
Click the Start menu and type "Run" to open the Run window.
Step 2
Type "Regedit" and press "Enter." This will open the registry editor, where you will back up the registry before editing it.
Step 3
Click "File" > "Export" to open the Registry Export window. Enter a name for your backup file and click "Save." Windows will save the registry.
Step 4
Locate this registry key in the registry editor: HKEY_CURRENT_USER\Control Panel.
A list of child keys will appear on the right of the screen.
Step 5
Double-click "Desktop" in that list to reveal the child keys within the Desktop category. Every time you click a registry key, the registry editor will display the child keys within that key.
Step 6
Double-click "Wallpaper" and remove the string from the text box named "Value Data." Click "OK" to save the changes.