Enlarging the print on your computer screen is necessary when you are working on a tiny monitor or when you are utilizing a screen without the aid of your glasses or contacts. Accomplish this by manipulating the display options in your operating system to automatically adjust and increase the display size of the text on your computer, a process which takes less than 5 minutes to complete.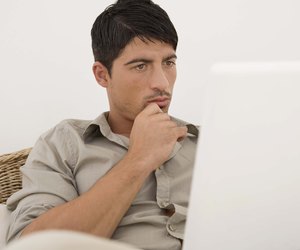 credit: Jupiterimages/BananaStock/Getty Images
Vista/Windows 7
Step
Right click the Desktop.
Step
Click "Personalize."
Step
Select "Adjust Font Size."
Step
Select the font size you prefer and press "OK."
Windows XP
Step
Right click the Desktop and select "Properties."
Step
Click "Appearance" and select "Advanced."
Step
From the drop-down menu, highlight "Selected Items," then click the drop-down arrow by "Font" to select a font type and size.
Step
Press "OK" then "Apply" to confirm your change.