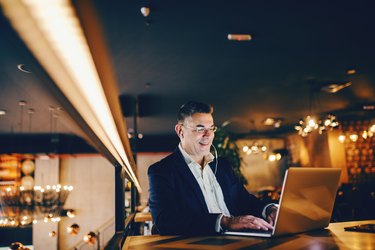 It is not uncommon for multiple individuals to use the same desktop or laptop computer in a professional setting. To preserve a sense of privacy and security, computer users can set up their own computer login credentials, which use a unique username and password. If a network administrator needs to review login credentials, specific privileges exist that allow these individuals to retrieve passwords created by other computer users. Understanding how to access and view saved passwords allows computer administrators to better monitor activity on their hardware and ensure that users can regain access to the computer in the event of a lost password.
Exploring Password Retrieval Basics
Both Windows and Mac operating systems provide computer administrators with the opportunity to view and modify passwords as needed. In many situations, the administrator of a computer is simply the first person to establish a login credential. In the professional workplace, an office IT professional often assumes the role of administrator, helping to create accounts for employees and establishing usage and security protocols as needed. For personal computers, the administrator may be the owner of the device. It is common for personal computers to have only one registered user.
Once the administrator login credentials are established, this individual has a set of privileges and a degree of accessibility that is not granted to other users unless specifically granted by the administrator. The administrator can find out passwords used on your computer, while other users may not have this ability.
Discovering How to View Saved Passwords
After completing the login process as an administrator, your next steps are determined by the specific operating system you use. If you are working on a Mac, you can view saved passwords by opening the "Utilities" folder found in the "Applications" folder and selecting the "Keychain Access" option in the window. From here, administrators can closely examine any passwords that have been saved on the computer at any point.
On a Windows computer, administrators can view current passwords by opening the "Run" window found in the "Start" menu and typing "keymgr.dll" into the prompt. Following this, the Key Manager program opens and list all passwords found on the computer. This list includes passwords created by other users of the device.
With this information, computer administrators can maintain close oversight of the hardware and ensure that any new accounts and passwords that are created adhere to defined parameters.