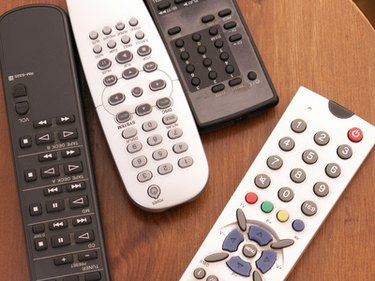 A Motorola cable box serves as a medium that delivers video signal from a cable service provider to your television. Motorola boxes can be connected to various televisions, such as, LCD's, plasmas and standard televisions. This type of box is usually provided to users by cable service providers and offers the availability to access high definition programming, on-demand and network TV.
Step 1
Turn your television set and equipment off to evade any electrical issues.
Step 2
Move your TV so you can gain access to all the inputs. Make sure that it is stabilized.
Step 3
Place the Motorola cable box near the TV, making sure that you can reach an electrical outlet and the television with the cables that come with your cable box. Cables are usually 3 to 6 feet long; extensions are available at electronic stores if necessary.
Step 4
Plug the coaxial cable that stems from the wall to the "RD in" or "TV in" port located on the back of your cable box. To connect this plug, you will need to screw it using your fingers.
Step 5
Connect the Motorola cable box to your TV with the necessary cables. You can use A/V cables, coaxial cable or an HDMI cable, depending on your type of television. Connect one end of any of these cables to an available "Video In" port on the back of the television set. Depending on the type of cable you are using this may be labeled as "Cable IN, "HDMI1" or "AV1." For instance, you will connect an A/V cable to the "AV Out" on the cable box and the "AV1 In" on the television set. The same would apply to any other cable.
Step 6
Connect the electrical cable to the slot assigned to it on the back of your Motorola's cable box and then to a working electrical socket. The electrical cable is the only one with an electrical output.
Step 7
Slide your TV set back into position so you can view the front of the screen.
Step 8
Press the "Power" button to turn your Motorola cable box on. Hold it for a few seconds.
Step 9
Wait for the box to load all the programming. This will take approximately one minute.
Step 10
Turn your TV set on. Make sure your TV is set to the input you connected the box to. If you connected your cable box to the "Input1" option, push the input button on your remote control and select the "Input1" option. The same applies to any other input you used.
Step 11
Verify that you are getting a picture. Your box is ready for use.