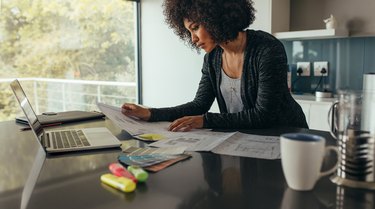 When working on a 3D model, you may find that the SketchUp default units don't fit your needs and that you want to change between units like meters and feet or switch between decimal and fractional measurements. Whether you want to update the units for a project you just started or need to set them for an imported one, the option is available in both SketchUp for Web and SketchUp Pro. In addition to setting the units for the length, you can change the precision SketchUp will use for length and angle measurements to improve accuracy.
About SketchUp Default Units
When you first create a project, you get to choose from a variety of templates that depend on your version of SketchUp. Although Sketchup for Web users can choose from only three simple template options, SketchUp Pro users can select additional templates designed for architecture, construction, urban planning, landscaping, woodworking, interior design and 3D printing projects. Your choice of template will set either feet and inches, meters or millimeters for the SketchUp dimensions.
After you've created a project, both versions of SketchUp offer options to change units between metric and Imperial forms and to use fractional or decimal numbers. SketchUp Pro goes further by listing architectural and engineering unit types separately, where architectural refers to feet and inches in a fractional form and engineering means feet and decimal inches.
Set Units: SketchUp Pro
If you don't want to use the SketchUp default units for your project, open the project and choose "Model Info" from SketchUp Pro's "Window" menu. Choose the "Units" option in the left pane to access the unit settings. Click the "Format" menu and select whether you want to use architectural, decimal, engineering or fractional units. If you choose decimal units, another drop-down list appears allowing you to further specify inches, meters, feet, centimeters or millimeters. To make changes to the length and angle unit precision settings, select the desired measurements from the "Precision" drop-down boxes. You can then close the "Model Info" window to set the new units.
Set Units: SketchUp for Web
To change the units for an online project, open your project in SketchUp for Web and locate the "Model Info" icon, which is the bottom option on the right-side menu. You can choose from six formatting options that show you examples of what each would look like. These include fractional inches and decimal units for inches, feet, meters, centimeters and millimeters. After selecting your desired units, you can specify the precision for the length and angles in the "Precision" sections below, if desired. When done, click the arrow in the top right area of the menu pane to save the settings and return to your project.