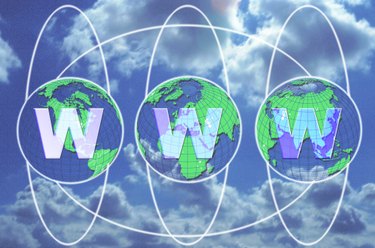 Microsoft's Internet Information Services is a solid performer as a Web server. It is included with Windows 7. The Windows-based IIS Manager is a tool for creating and configuring your server. You have to provide your own content for the server and put it in the right place. Within a matter of minutes, however, you can have a Web server up and running on your Windows 7 machine.
Step 1
Click the Windows "Start" button. Click "Control Panel," then "Programs," and then "Turn Windows Features On or Off." Click the "Internet Information Services" check box. Click "OK." Allow the installation process to finish and close all dialogs.
Step 2
Click the Windows "Start" button, key "IIS" into the Search box, and click the "Internet Information Services Manager" link in the Program list.
Step 3
Click the triangle beside your machine name in the Connections panel on the left of the IIS Manager dialog. This should expand the link. Click the "Sites" link, and click the "Add Web Site" link in the Actions panel on the right.
Step 4
Enter your website name in the "Site name" box. This could be your domain name or another that you want to use to identify your site.
Step 5
Browse to the directory where your website content will reside, using the browse button to the right of the "Physical path" box. Choose a directory name that matches the site name from Step 4 to avoid confusion and identify easily. If you have not created the directory already, you can use the browse feature to create it on the fly. Just navigate to the folder that will be the parent of your site folder. The default is c:\inetpub\wwwroot. Right-click on it. Roll your cursor over "New," and select "Folder" from the options. Give your folder the name you have chosen. Click "OK."
Step 6
Enter the full host name of your site in the HostName box. For example, type "www.yourwebsite.com," without the quotes. Click "OK." You should now see your new site listed in the Sites panel in the middle of the dialog. Close the dialog.
Step 7
Put your website content in the directory you specified in Step 5. Start your favorite browser. Type "localhost/". The "yoursitename" is the Site name you entered in Step 4. You should see your initial page appear, indicating successful installation of your web server on Windows 7.