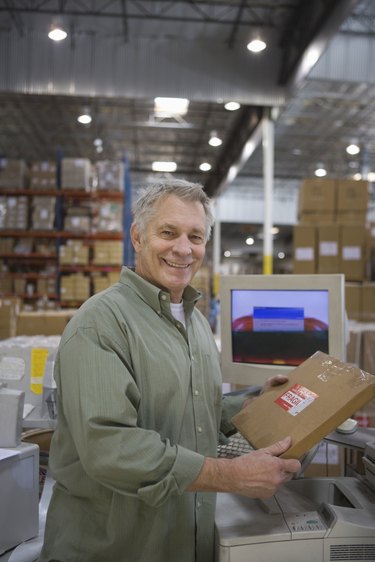 The UPS WorldShip application is a great way to manage the addresses, shipping reports, and mailing labels that your business uses every day. Of course, if you upgrade to a different computer, you don't want to lose this important information. WorldShip's backup feature enables you to export all of your vital information to an archive. Once you install WorldShip on your new computer, you can select this backup file and continue using your existing data.
Step 1
Launch the WorldShip application on the computer that holds the data you want to transfer. Click the "Manage Data" menu, and then "Move WorldShip Data to Another Computer." Click the "Backup" button to reveal the Backup Files window.
Step 2
Click "Browse" to choose a folder to save the backup files, and then press "OK." Select a location that is accessible by a second computer, such as a network location, flash drive, or external hard drive. If you do not specify a location, WorldShip uses the default location "\UPS\WSTD\Support\DBSupport."
Step 3
Press "Backup." A progress window appears while the data is being saved. Wait until you see the message, "The file backup has completed" before you continue. Click "OK" and then "Exit."
Step 4
Move to the second computer, where you want to transfer the WorldShip data. Connect the computer to the location that holds the exported data, such as the network or flash drive.
Step 5
Launch the WorldShip installation program on the second computer. If you do not have it, you can download it for free from UPS (see Resources). Choose the language you want to use, and select an installation location for the application.
Step 6
Select the country or territory where you will be using WorldShip. Check the box marked "Finish Moving WorldShip Data," and click "Next."
Step 7
Click "Browse." Navigate to the folder that contains the data you exported earlier. Select the folder named "UPSWS_MoveBackup" and click "Next."
Step 8
Check the box labelled "I Accept the Terms of the License Agreement" and click "Next." Choose "Single Workstation" click "Install." The WorldShip program installs on your computer, and imports the previous data.