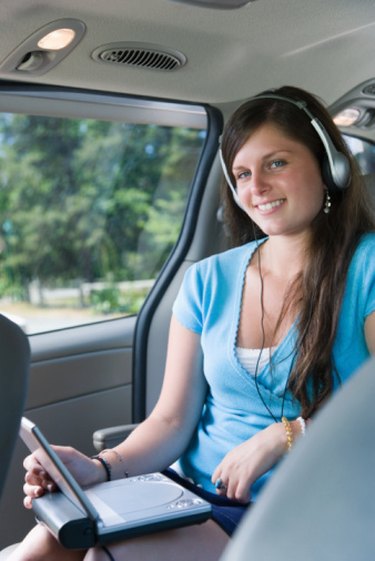 Among other products, Audiovox produces portable and auto DVD players with accompanying LCD viewing screens. Over time, various glitches and issues can arise while operating these devices, partially due to the motion and jostling that comes with using portable players. These issues can include problems with the picture and sound, skipping or freezing of the disc during playback, or the device shutting down without prompting. Taking basic steps to remedy these issues on your own can often make a difference, and will not void any warranty you may have.
Step 1
Ensure that the battery has a charge or that the power adapter you are using is connected securely to the player and plugged into either the wall outlet or car cigarette lighter if the player will not power on when you press the "Power" button. When charging, the red indicator light will turn off when the battery is fully charged. Recharge the battery at least every two months during periods of infrequent use to maintain its optimal performance.
Step 2
Check to see that the volume control is turned up and that any headphones or auxiliary cables are securely connected to the appropriate jack if there is no sound during playback or if the sound is distorted.
Step 3
Check the disc itself if the picture is distorted during playback or the disc will not play. Look for any physical damage to the disc and remove any minor smudges or scratches. Ensure that the disc is compatible if the player refuses to recognize it. The disc must be Region 1 (for DVDs) and in either DVD, CD, CD-R, CD-RW, DVD +/-R or DVD +/-RW format. Stabilize the unit as much as possible if sudden movements cause playback to stop.
Step 4
Wait before pressing a button again if pressing that button causes the "Hand" icon to appear. This icon signifies that a particular feature is restricted by the disc or not available on that particular disc at that time, including a title, chapter or angle command. And, pressing the "Fast Forward" or "Next Chapter" button will not work during the warnings and information that appear at the start of playback; this does not denote a problem with the player.
Step 5
Allow the player to dry out before using if condensation occurs, which can happen when the player is exposed to water or other liquids or has been transported from an overly cold to an overly hot environment. Also, avoid leaving the player in temperatures above 122 degrees Fahrenheit, such as an automobile or its trunk in hot weather, for an extended period of time as that may damage the battery and charging system.