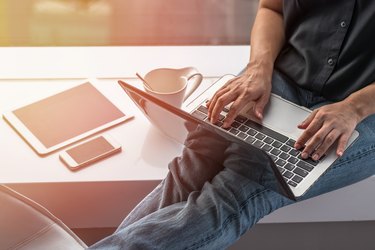 Microsoft Word is primarily a word processing application that lets you insert text and pictures in a document in a linear manner. This means text is displayed sequentially in the order in which it's typed in. The user experience is similar to a typewriter, except you can't type one line on top of another without moving all of the text that follows. Luckily, the Word text box is available. This feature allows you to create a fillable form or other type of document that requires text to be inserted without any other lines moving.
Creating a Word Text Box
With a text box, you can control where text is positioned on a document. In Word 2003, the "Text Box" button is available on the "Drawing" toolbar. Click on the button, then draw the text box in the desired location on the document by pressing and dragging with the mouse. You can then type or paste text into the box. The size and the font of the text can be modified using the same tools used for other text in the document. In more recent versions of Word, "Text Box" is in the "Text" command area of the "Insert" tab. You can chose from several types of predefined text boxes that are automatically created on the document page or choose to draw a text box as in Word 2003.
Write on a Line in Word
You can use Word for form fields that are displayed as lines with writing on them using text boxes. Create the line by inserting a series of underscore characters. Insert a text box, position it over the line and add text for the field. Format the text box in Word 2003 by selecting the box, pressing the right mouse button and choosing "Format Text Box" from the popup menu. In the "Format" dialog, make the text box have a transparent background by setting the "Fill Transparency" to 100 percent. Hide the text box's outline by making the "Line Color" the same as the background color of the document. In later versions of Word, you can format the text box with the "Format Shape" command. Set "Shape Fill" to "No Fill" and "Shape Line" to "No Line" to make the text box transparent and hide its outline.
Word Tools for Fillable Forms
In Word 2013 and later versions, a variety of tools for creating fillable forms are available on the "Developers" tab. Enable this tab using the "Customize Ribbon" command under "File Options." You can add instructional text, text fields, pictures and controls that allow users to choose an option from a group or turn on a check box. You can then set edit protection on the form to allow others to fill it out but restricts them from changing it.