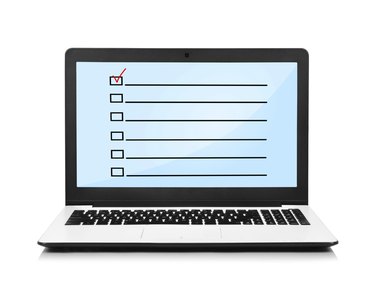 The Developer tab in Microsoft Excel 2013 includes form control which can help you develop a professional-looking questionnaire in your worksheet. Questionnaires often include additional elements that go beyond the standard question and answer fields. There are many form controls which you can add to your worksheet, including option boxes, check boxes, list boxes and text boxes. These form elements help you control the type of answers that your users can select or enter in your questionnaire.
Developer Tab
Excel's Developer tab provides you with many different features to add forms and form controls to your worksheet. To enable the Developer Tab, click the "File" menu button, select "Options" and then "Customize Ribbon" on the left sidebar of the Excel Options dialog. Check the "Developer" box under Main Tabs in the box to the right and then click the "OK" button. The Developer tab appears to the right of your other main tabs.
Option Box and Check Box
The Option Box restricts your user's selection to only one choice out of multiple options. The Check Box lets your users select multiple answers. In the "Developer" tab, click the "Insert" drop-down in the Controls group and then select the check box icon for "Check Box (Form Controls)," or select the form radio button icon for "Option Button (Form Controls)." Click to place the object on your worksheet, right-click the object and then select "Format Control… ." Use the Format Control dialog to customize the default values and appearance of elements on your form.
List Box
Enter each item you want in your list box into consecutive cells in the same row or column on your worksheet. Click the "Insert" drop-down in the Controls group of the Developer tab, and then select "List Box," the fifth icon under Form Controls. Select an area of your worksheet where you want the list box to appear. Click "Properties" in the Controls group of the Developer tab. Choose the spreadsheet icon next to the "Input Range" field, click and drag to select the range of cells containing your list items, press "Enter" and then click the "OK" button.
Text Box
While you can use a cell as a text input field in your questionnaire, you can also use a Text Box. Click the "Insert" tab and then select "Text Box" in the Text group. Click in the area where you want your text box to begin to add the box. Alternatively, click, hold and drag your cursor across your worksheet to draw the text box. You can use the text box as a label for your questionnaire or as a text entry field for your user's answers.