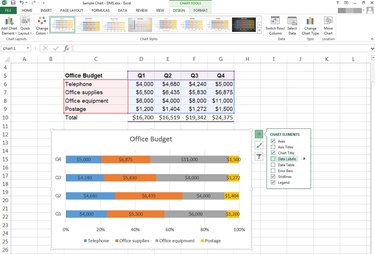 Percentage bar graphs compare the percentage that each item contributes to an entire category. Rather than showing the data as clusters of individual bars, percentage bar graphs show a single bar with each measured item represented by a different color. Each bar on the category axis (often called the x-axis) represents 100 percent.
Charts like this help you to analyze things like how you are spending money each quarter or which salespeople contribute the most sales each month.
Create a Percentage Bar Graph
Step 1
Select the data you wish to graph.
Step 2
Click the Insert tab and then the drop-down arrow next to Bar in the Charts group. Be sure to choose the third option from either the 2-D Bar or 3-D Bar choices, which is 100% Stacked Bar.
Step 3
Choose the preferred data for the Category Axis. Verify that your data is correct, then:
Select the chart.
Click the Design tab from Chart Tools, located to the right of the View tab.
Press the Switch Row/Column button in the Data group on the ribbon.
Modify a Percentage Bar Graph
Step 1
Selecting the correct data is especially critical for this type of chart. Including the total in your data selection will skew the results, so remove it if selected:
Select the Total data series.
Press Delete.
The total category should disappear from both the bars and the graph's legend.
Step 2
Adding Data Labels to bar graphs is simple. Click Design under Chart Tools and then press the drop-down arrow next to Add Chart Element.
You can also hover over your chart until three icons appear next to the right border of the graph. Choose + to add chart elements. Click the check box next to Data Labels.
Step 3
Double-click on data labels to open the Format Data Labels pane. Explore these options to change the position, alignment and other properties.