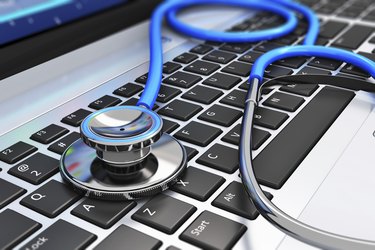 Resetting the parameter random-access memory in a Mac can resolve problems when the computer is performing slowly, crashing frequently or showing inconsistencies with the display or speaker volume. Resetting or zapping the PRAM can save a trip to the Apple Genius Bar. The process to zap your PRAM works on all Mac desktops and laptops and can be completed during startup.
What Is PRAM?
Macs access the PRAM at start up for information regarding the startup disk, connected hardware such as CD/DVD drives, installed memory, keyboard, displays and sound. Resetting the PRAM is the same procedure for all Mac models. While zapping the PRAM resets the system to start up in its original state, it also resets your preferences, settings, time, displays and connected devices such as a mouse or trackpad.
Zap Your PRAM
After you shut down your computer, turn on the computer and immediately press and hold the following keys on your keyboard simultaneously: "Option," "Command," "P" and "R." Release the keys after you hear two startup chimes. The system chimes once upon restart and then a second time upon PRAM reset. If you're using a Bluetooth keyboard, press and hold the keys as soon as you hear the first startup chime.