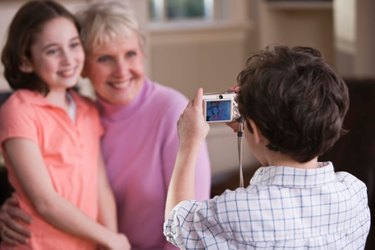 Tiny pixels make up digital images and with more pixels comes higher image clarity and sharpness. The best way to get high quality images is to turn up the camera's resolution setting before taking pictures. Pixels added after photos have been taken, won't do much to enhance the quality of your images. But raising the pixel count for your digital images is not difficult using Microsoft Paint, which is already installed on many Windows-based computers.
Increasing pixels
Step 1
Click on the "Start" button and then type "paint" into the Start menu's search box. Click on the "Paint" icon when it appears in the Start menu.
Step 2
Click on the blue "Paint" button. Select the "Open" option from the Paint menu. Locate your image file, using the file explorer window that pops up. Click on the photo.
Step 3
Click on Paint's "Resize" option. Click on the "Pixels" bubble in the Resize menu the image's current resolution will appear in the Resize menu's "Horizontal" and "Vertical" fields.
Step 4
Enter a new pixel value into either the "Horizontal" or "Vertical" field -- the value opposite field will be updated automatically. Click "OK."
Step 5
Return to the "Paint" menu, and then click on the "Save" option.