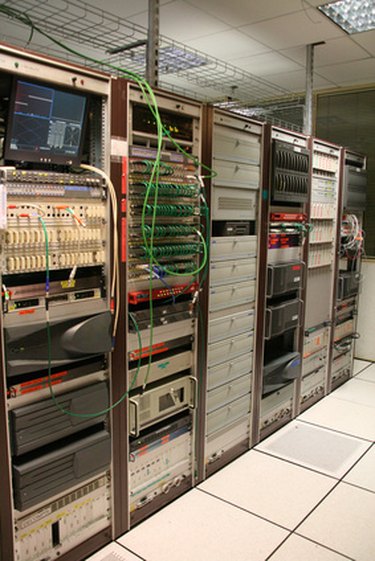 The first real database management program was IBM's Information Management Systems in 1968. Databases store large amounts of data. Companies use databases to store inventory, customer information, employee information, item and pricing information. Internet search engines use databases to find web pages. People use databases to store personal contact information, home inventory and even financial records.
Database programs must quickly find and return this information. SQL (Structured Query Language) started in 1973 to facilitate access to databases. Based on the Sybase Program, Microsoft SQL Server 2008 1.0 was released in May 1989. SQL Server 2008 1.1, released in May 1990, was the first version to support Windows 3.0. The software offers several advantages to adopters.
Streamlined Installation
Microsoft SQL Server 2008 can be installed using "setup wizards"; the installer also detects, downloads and installs any required prerequisite updates. These features reduce the complexity of installing the software. Individual components such as Database Services, Analysis Services and Integration Services can be installed separately. SQL Server 2008 automatically updates security patches to reduce maintenance costs.
Better Performance Features
Microsoft SQL Server 2008 has transparent data compression and encryption built in. There is no need to modify or change programs to encrypt data. SQL Server 2008 has more efficient access control and permission management tools and offers better performance in data collection. SQL Server 2008 also integrates with Microsoft Office.
Even though SQL Server 2008 supports databases up to 524 terabytes (TB), its data compression features can reduce the database size. Backup databases can also be compressed.
Better Security Features
SQL Server 2008 has strong authentication and access protection and has better password management features to enforce stronger passwords and frequent changing of passwords.
SQL Server 2008 uses Policy-Based Management to detect non-compliance security policies, which allows only authorized personnel access to the database. Security audits and events can be written automatically to log files.
Lower Ownership Costs
SQL Server 2008 includes Advanced Compression, data management tools, disk partitioning, data mining tools, Enterprise Reporting, and Advanced Security at no additional cost. SQL Server 2008 includes backwards compatibility with SQL Server 2000 and 2005, so there is no need to update or upgrade every computer.
Facts
Corporations such as Unilever, Citi, Barclay's Capital, and Siemens use Microsoft SQL Server 2008. SQL Server 2008 is recognized as the Best Seller and Top-Growth Bestseller by CRN Magazine.