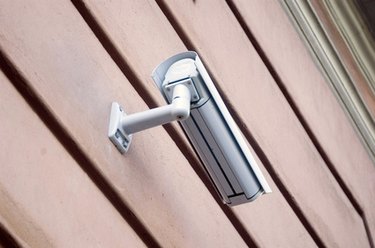 Outdoor security cameras help maintain the security of businesses and homes. These cameras vary in size and picture quality; however, no matter the type of security camera you purchase, how you mount the cameras will determine their effectiveness.
Mounting Height
Whether you're mounting outdoor security cameras to protect your business or your home, the height of the camera will determine the quality of the images captured. For businesses, it is important to have the camera positioned so it can capture the surrounding area while still being close enough to adequately capture faces of incoming customers and those within a 10-foot radius of the front door. Mounting a surveillance camera at least 10 feet high will allow the lens to capture the surrounding sidewalk and parking lot while still being able to properly view the faces and body types of customers. To secure your home, place a camera at least three feet above your front door, as well as 10 to 20 feet up, to capture vehicles entering and exiting your driveway.
Location
The location of an outdoor surveillance camera is perhaps the most important aspect of a security system. If you are using a multi-camera system to protect your business, place a camera at the entrance of the store as well as one focused on the parking lot. Parking lot cameras should be placed so they can properly view the type of vehicles customers arrive in while front door cameras should be placed so the lens captures the faces of arriving customers. For home monitoring, outdoor security cameras should clearly capture the front door area as well as the driveway.
Visibility
The laws concerning the visibility of surveillance cameras can vary from state-to-state; however, all states forbid hidden cameras in private places, such as bathrooms, changing rooms or locker rooms, according to Brick House Security. Outdoor security cameras are not located in private areas, thus their visibility can be hid from eyes. While the notion of hiding outdoor security cameras may be attractive to some business and homeowners, take note hiding a camera may invite criminals as they assume no visual security aid is in effect. If you decide to hide outdoor surveillance cameras, place a sign on the property stating visual surveillance is being used to deter criminals and inappropriate behavior.