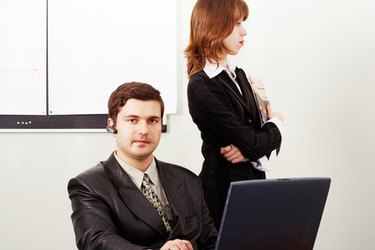 A teleconference is a business meeting or educational session conducted among participants in different locations using telecommunications equipment. All types of teleconferencing require interactive communication. Long-distance meetings via teleconference save time and money, and the practice eliminates the need to travel for a face-to-face meeting, thereby greatly reducing a company's carbon footprint.
Audio Teleconferencing
Audio teleconferencing is voice only; it is also known as conference calling. This kind of communication can be done on a casual basis through individual phone services, known as three-way calling, or by using services designed for the purpose. Some companies purchase a permanent, dedicated conference network where users simply pick up the phone to participate in a conference call. Services can also be purchased when needed. In this case, each conference participant is given a phone number and a passcode. Participants then "meet" on the air at a designated time. Pricing is determined by the length of the call and number of participants.
Audiographic Teleconferencing
Audiographic teleconferencing is also known as electronic whiteboarding, according to The Free Dictionary. Both an audio and a data connection are necessary. This type of teleconferencing was often used for distance learning and meetings that only require narrowband communications. It was designed primarily as a student-instructor mechanism, with color imaging, digital video and telephone communications and endeavored to create a realistic virtual classroom.
Web Teleconferencing
Web conferencing involves various levels of audio-video and graphics communication from computer to computer. It can be as simple as instant messaging or more complex as evidenced by online courses or online Web meetings. In these situations, the conference or class takes place in real time and participants view a presentation and hear information simultaneously. Applications such as spreadsheets can be simultaneously shared as well. This type of teleconferencing allows for instant communication with the moderator or presenter. Questions and comments can be typed by participants while the presentation continues uninterrupted. Cost is predicated on usage; many companies charge a fixed fee for frequent users, while others charge per-minute or per-session fees.
Video Teleconferencing
Video conferencing originally entailed closed-circuit television systems consisting of a camera and monitor at each end of the communication platform. With the dawn of the Internet and advances in video compression technology, video conferencing can take place anywhere there's an available Wi-Fi connection. Privacy in online video conferencing necessitates security, which involves encryption. The more sophisticated video conference platforms take place over virtual private networks (VPNs) set up by firms specializing in video conferencing or by a large corporation as part of its overall corporate network.