An LCD computer screen is an electronic viewing device, which allows people to receive information generated through a computer. These screens are delicate and require careful handling. If your LCD screen has damage from water then it can cause your screen to show an unclear picture. You may be able to fix a water damaged screen without having to replace it. Although, it will depend on the severity of the damage.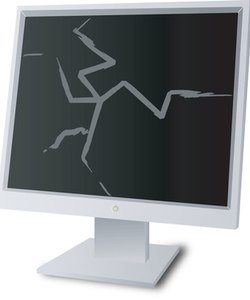 Step
Remove the power cord from your computer. Remove the battery from the computer as well to release any live currents.
Step
Remove the screws from the LCD computer screen, they may be hidden behind rubber covers. Use the small screw driver to remove the screws. Place all the screws on the white towel, and note the placement of each.
Step
Gently pull with two fingers on the bottom of the screen frame, or bezel, to pry apart the LCD screen. Lay the screen on a flat surface and unplug any cables on the LCD screen. Remove any screws remaining behind the screen; sometimes a computer has multiple layers of an LCD screen.
Step
Wipe the wet areas of the screen with a dry cloth. Use a small hand towel to blot any signs of water damage. Gently wipe the towel across the screen to remove any dust on the screen. Keep the screen face down to release any excess water
Step
Reconnect the cables behind the LCD screen. Replace screws in their correct slots on the screen frame. Plug in the power source, and replace the battery. Turn the computer on to make sure everything is in working order.