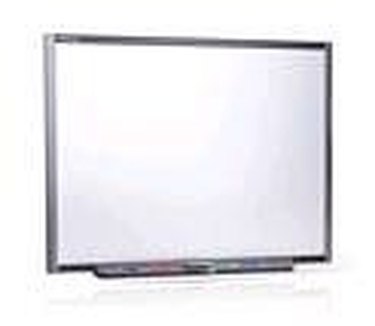 The SMART Board is an interactive whiteboard manufactured by SMART Technologies. SMART introduced the first SMART Board interactive whiteboard in 1991, and the boards are now used in classrooms, lecture halls, group meetings and presentations across the world.
Origins
The first SMART Board, connected to an LCD panel and a computer running integrated programs, was designed to function as a large display screen. Intel Corporation took interest in the idea and became a minority investor in the company in 1992.
How It Works
Users of the whiteboard and system are able to control the entire operation from the interactive whiteboard display itself, which functions as both a computer monitor and mouse. The touch-sensitive display connects to a computer and digital projector to display an image of what is currently on your computer screen. Users can then control computer applications, using touch-control directly on the display. They can also write notes in digital ink, which are superimposed on an image, screenshot or document without changing the underlying image.
Types
There are several types of SMART Boards. Front projection boards work with an existing projector and computer, while rear projection boards include an integrated projector. The rear projection board can be a mobile unit or permanent installation. The interactive displays transform an existing plasma or LCD display into an interactive solution.
Early Development
New versions and products are released on a regular basis. In 1992, SMART introduced the rear-projection SMART Board, with an in-wall rear projection SMART Board released in 1997. In 1998, SMART released its information management software and the SMART Notebook 2.0. 1999 brought the first SMART Board for plasma displays.
Later Advances
In 2001 came the SMART Board software with SMART Recorder, as well as meeting productivity software. The first SMART Board for flat-panel displays debuted in 2003.
In 2005, SMART unveiled its wireless slate, a tablet PC that lets users manipulate and select on-screen objects, create and save notes and launch applications. SMART debuted the Senteo interactive response system, which allows teachers to track student performance and organize assessment results in its built-in grade book, in 2007. New products in 2008 included the SMART document camera, collaborative learning software, and the next-generation SMART Board 600i interactive whiteboard system.