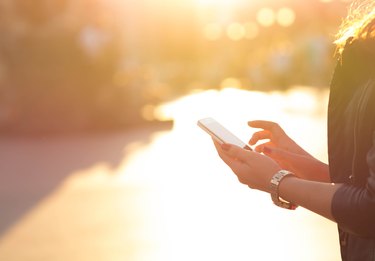 Files sent as email attachments can be downloaded directly to your iPhone in their original formats and viewed in both portrait and landscape orientation. They allow a document, image or presentation to maintain their original encoded information. IPhones support a variety of viewable file types. However, when attachment problems occur, you can solve download problems by verifying files are in acceptable formats.
Symptoms
An attachment can often be sent along with an email if the sender wants the file to remain in its original format. When you try to open an email attachment on your iPhone, the message might be not displayed if the message contains an attachment named Windmail.dat. When someone sends an unsupported file, a plain text version of the file is created. However, in most cases, the plain text file won't decode the original file sent and display it properly. Even attached Microsoft Word or Excel files might experience this download and viewing problem if a paperclip icon appears next to the attachment. This icon usually means the file cannot be opened.
Viewable File Types
Knowing the viewable document types can save you problems next time you want someone to send you an email attachment. According to Apple, for pictures, iPhone only supports attachments in .jpg, .tiff and .gif. For documents and presentations, iPhone is capable of viewing the following formats: .doc and .docx (Microsoft Word); .htm and .html (Web pages); .key (Keynote); .numbers (Numbers); .pages (Pages); .pdf (Preview and Adobe Acrobat); .ppt and .pptx (Microsoft PowerPoint); .txt (text), and .rtf (rich text format). For contact information, iPhone's is capable of viewing the following documents: .vcf (contact information), and .xls and .xlsx (Microsoft Excel).
Solutions
If the email attachment is already in an unsupported format, you can't view it on your iPhone, so asking the sender to send a a new file attachment in the correct format can solve this problem. IPhone supports messages in either plain text or HTML (HyperText Markup Language), which is the encoding language used for Web pages. It's a universal format supported by iPhones, so asking the sender to send files in this format should do.
Tips
Even in the correct formats, large attachments can take sometime to load. Asking the sender to send fewer attachments at a time or small-size files would be more ideal if you have to open them with your iPhone. This may be beneficial if the attachments are pictures because they can be large.