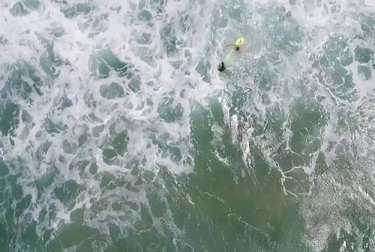 Not all drones are created equal, especially ones that are built specifically to save people's lives. A rescue drone off the coast of Lennox Head, Australia rescued two swimmers as they struggled to stay afloat while waves crashed over them.
The two teenage boys were spotted by someone on shore who alerted the lifeguard station, according to BBC News. Lifeguard supervisor Jai Sheridan immediately flew the drone over the location of the boys and dropped an inflatable rescue pod, which is designed to save people caught in rip currents.
The "Little Ripper" drone was able to to rescue the swimmers from the powerful surf conditions in 70 seconds.
"Never before has a drone, fitted with a flotation device been used to rescue swimmers like this," Deputy Premier and Minister for Regional NSW John Barilaro said in a statement.
The rescue was Little Ripper's first, and it likely won't be its last.