In recent years, the U.S. has become a much more inclusive place for the LGBTQ+ community, but there's still a long way to go until safety isn't an issue. Verena is an app designed to help members of the LGBTQ+ community and other marginalized communities stay safe, because you just never know.
Developed by 16-year-old Amanda Southworth, Verena is a personal security system that gives you "the tools you need to keep you safe while you live as the person you were meant to be." Once you create an account, you can develop a network of emergency contacts who can be alerted at any time without leaving a trace on your phone.
Verena has an emergency feature that can guide you through your problem and give you the resources you need to get out of the emergency safely, as well as put you in touch with a support hotline or the police should you ever find yourself in an unsafe or threatening situation.
The app also has an incident log feature, which makes it easy to document any threats, bullying, abuse, domestic violence, or hate crime you've experienced. It can help you find and get routed to hospitals, shelters, and police stations near you.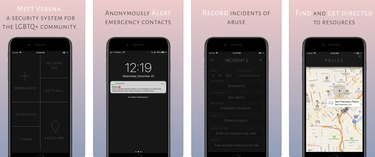 If you've ever been in a threatening situation because of your sexual or gender identity, Verena could potentially go a long way. It doesn't hurt to have it on your phone, but hopefully you never have to use it.