With more than 300 million monthly and 187 million daily active users and 1 million Snaps created every day, Snapchat is a social media force to be reckoned with. Among the Snaps, Lenses, Filters, scores and other features, it's easy to get lost in this quirky social network's jargon. If you're a Snap newbie, treat yourself to a primer, and you'll have a Snapchat score of 100,000 in no time.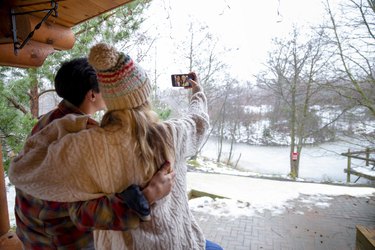 What Is Snapchat?
Snapchat is a mostly camera-based social media network for mobile platforms such as iOS and Android. Users share photos and short videos, called "Snaps," either personally or with their social network. Snapchat focuses on sharing moments, so much of the content is temporary rather than permanently saved, although users have increasing options for saving content optionally.
Augmented reality features are a huge part of Snapchat and its popularity. With the app's various AR features, you can add text and visual overlays to still and moving images and use location-specific or event-specific overlays.
How Does Snapchat Work?
Snapchat immediately greets you with a straightforward camera app. You take a picture by tapping the circle in the middle or capture a video by holding the button. Once you take your Snap, you have the option to send it to an individual, in which case the Snap disappears in 24 hours, or share it to your Story for 24 hours, where it can be viewed by all your connections.
How to Get an Account
To get snapping, head to accounts.snapchat.com. Enter your first and last names and choose a username and password. You also need to input your birthday and browse Snapchat's terms of service before you hit the "Sign Up & Accept" button.
You can also download the Snapchat app via Google Play or Apple's App Store. You are prompted to sign up in the app the first time you launch it.
How to Use Filters
Snapchat's numerous AR features – like the Face Lenses that put puppy ears on your friends, the World Lenses that alter the landscape in your Snaps, or Filters that add frames to your photos – offer tons of ways to get creative with your socials.
To use a Filter, capture a Snap and swipe left or right to pick the Filter of your choice. You can add multiple filters by tapping the "Stack" button. For Lenses, point your camera lens toward someone, tap their face on the screen and then swipe to choose a lens and capture your Snap as usual. To use a World Lens, use your rear-facing camera, tap on the background or landscape to bring up a selection of Lenses, and then tap the one you want to use.
How to Replay
Snapchat is ephemeral by nature, so don't worry if you miss out on the first try when a friend sends you a Snap. Just tap the Snap right after your first viewing to see it again.
Be careful, though – if you leave the Friends screen and navigate elsewhere in the app, you won't be able to replay it.
How Do You Follow Someone on Snapchat?
To grow your network on Snapchat, you add friends. After you add them, you can follow their Stories and receive their Snaps from the Friends screen.
Tap the Profile icon in the top-left corner of the screen to head to your Profile screen, and then select "Add Friends." From here, you can either tap "Contacts" to add friends straight from your phone's contact list or "Find Friends," and the app walks you through the process of adding friends who are already on Snapchat. You can also use the "Add by Username" feature to follow the content of public figures.
If you want to stay up to date on Stories from specific creators outside your real-life social network, open Discover by tapping the icon in the bottom right corner and browse the content there. If you see a Story you like from a creator or friend, tap the story and hold down to subscribe to Stories from that user.
Can Anyone Follow You on Snapchat?
Although anyone can follow your Stories by using the "Add by Username" or, in some cases, "Discover" features on Snapchat, that doesn't mean they can automatically see all of your content. By accessing the Settings menu from your Profile page, you can customize who sees your Stories. Under the"Who Can..." heading, tap "Who Can View My Story" and choose "Everyone," "My Friends" or "Custom."
How Do You See Someone's Snapchat Story?
Swiping left from Snapchat's main camera screen brings up your friends list. From here, you can see the stories of any friends who've shared them, chat with friends, or view Snaps they sent you.
Remember, Stories last for just 24 hours after they've been posted, so check Snapchat regularly to stay up to date on what your friends have shared.
How Does Snap Score Work?
On Snapchat, your score – visible from your Profile page – is a number that grows over time as you use Snapchat in various ways. Although it's mostly just for fun and bragging rights, achieving certain score milestones can unlock Snapchat Trophies, which are exclusive emoji you can use in your Snaps.
As Snapchat explains, "Your Snapchat score is determined by a super secret special equation that combines the number of Snaps you've sent and received, the Stories you've posted, and a couple of other factors."
How Do You Get Bitmoji on Snapchat?
The Bitmoji app allows you to create cartoon-style avatars for you and your friends. If you have both Bitmoji and Snapchat, you can use the Bitmoji avatars you've created in your Snaps.
After you're registered on both Bitmoji and Snapchat and have created at least one Bitmoji character, go to your Snapchat Profile page and tap "Add Bitmoji." The Snapchat app automatically walks you through the process. To manage your Bitmoji after it's added, tap the "Bitmoji" icon from your Profile page and then choose an option such as "Edit My Bitmoji," "Change My Outfit" or "Change My Bitmoji Selfie."