Although Facebook-owned Instagram made about $4 billion in revenue in 2017, mostly through advertising, the social site isn't monetized for the average user. While socially oriented streaming sites like YouTube and Twitch pay content creators based on ad clicks or subscribers, Instagram likes and followers won't fill your coffers directly, no matter how many of them you have. Instead, Instagram is a useful platform for publicity that can indirectly help you generate profit. Because Instagram doesn't have a built-in monetization system, there's no one right way to use it for money-making. You have tons of opportunity to be creative here, though, and you can look to success stories for inspiration.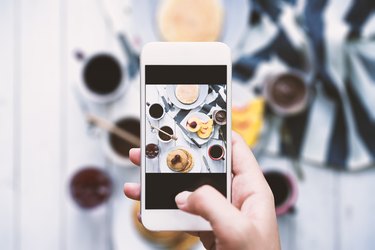 How to Make Money on Instagram
If you use Instagram or watch YouTube, there's a good chance you've heard the term "influencer." It refers to someone, usually a popular social media personality, who has social reach, sway or influence. In Instagram's case, it's this quality – influence – that often makes creators lucrative and earns them money.
Influencers are paid in money, exposure, gifts, products or a combination thereof to share and promote specific brands, products or services on social media. On Instagram, they often make sponsored posts. Depending on the deal, a brand requests a single post or a whole campaign of posts, videos or Stories, with fees negotiated accordingly. Brands most often reach out to influencers, but you can take a proactive route by listing yourself on online influencer marketplaces like Shoutcart, Crowdtap or Grapevine.
Although leveraging your engagement with a large number of Instagram followers as an influencer is a key way to make money, you can also use the photo network as a sales platform for your own products or as an affiliate.
How to Make Money on Instagram: Travel
For travel bloggers, making money on Instagram often falls into two categories: sponsored trips and sponsored posts. In the former, someone else – typically a tourism board, airline, booking service or hotel – sponsors the traveler's trip, covering all costs but not necessarily paying for the social media content. In the latter case, the traveler pays for the trip but earns money by sharing posts promoting travel-oriented products, such as camping gear, clothes, watches or luggage.
If you're a budding travel influencer, use the Webfluential Influence Estimator at webfluential.com to get an idea of the value of your Instagram reach before trotting the globe.
How to Make Money on Instagram: Fitness
Fitness gurus on Instagram may make money as sales affiliates, which involves the direct sale of products via strategies like including promo codes for a hot new protein shake or yoga mat in posts. Amazon Associates offers 10 percent commission, while ClickBank works on a tier-based system.
Full-time Instagram fitness model Alyssa Bossio says she started by making paid content and sponsored posts like most other influencers but eventually leveraged her Insta popularity into a sales platform for her own eight-week workout guides.
How to Make Money on Instagram: Photography
Perhaps the most direct way to make money from Instagram photography is to collaborate with brands. Companies such as UPS, Apple and Disney regularly hire professional photographers to create Instagram content for them.
For shutterbugs of the up-and-coming variety, Instagram may be more useful as a promotional tool or semidirect sales source. Photographers should focus on a steady stream of quality output that reflects their aesthetic, but they can also use the platform to offer deals and promo codes for services such as event photography, or they can post images and offer corresponding prints for sale in the comments section.
As with any Instagram marketing efforts, relevant hashtags, quality content and shout-outs from fellow creators in your network help photographers get a boost.
How Many Instagram Followers Do You Need to Make Money?
Forbes estimates that those with more than 100,000 followers have the best chance of attracting brands to promote, but even content creators with a few thousand followers can act as "micro-influencers" catering to specific niches.
Although the number of followers needed to attract revenue may vary by marketing niche, at least two truths remain consistent: Constant, active engagement is key, and fake followers get you nowhere.
How Much Money Can You Make on Instagram?
About 42 percent of influencers surveyed by the developers of influencer marketing software GroupHigh report charging $200 to $400 per sponsored post.
In a 2017 survey, NerdWallet interviewed Instagram influencers. Some examples of success include micro-influencer and business coach Rachel Ritlop at 17,200 followers and $1,000 a month in earnings and travel photographer Laurence Norah at 47,000 followers and "a few thousand" dollars a month.